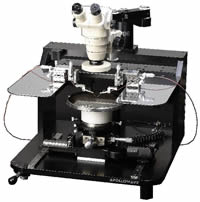 Compatible with a wide range of needs for α series evaluation and analysis with comfortable operability popular Always adopting a soft contact by adopting a shock absorber. It adopts a large platen and realizes mounting of a margin manipulator. Moreover, it is possible to adjust Z of the needle at once by moving the platen up and down. It is an ancient form that takes operability into account. It is easy to load / unload wafers.
Z is a 3 step switch
Three-stage action Z drive is possible by lever operation. Alignment (alignment) is performed by separating the needle about 300 μm from the wafer, so the stage can move without deviating from the focus of the microscope and at 5.0 mm for loading / unloading it can be safely operated.
Stage movement is easy and accurate
You can freely move the stage to XY with the movement switch which is concerning the stage movement knob. The range is equivalent to each chuck size for both XY and YY.
Reliable alignment
High precision precision stage with micrometer is adopted as XYZθ. ? Alignment when attaching probe card can be done easily.
Device specification
Body size (body only) Length: 500 mm Width: 500 mm Height: 330 mm
Weight (body only) 40 kg
Stage travel (coarse movement) X: 200 mm, Y: 200 mm
Sub stage travel (fine movement) X: 14 mm, Y: 14 mm
Chuck diameter 4 - 8 inch
Wafer holding vacuum suction method (400 mmHg or more)