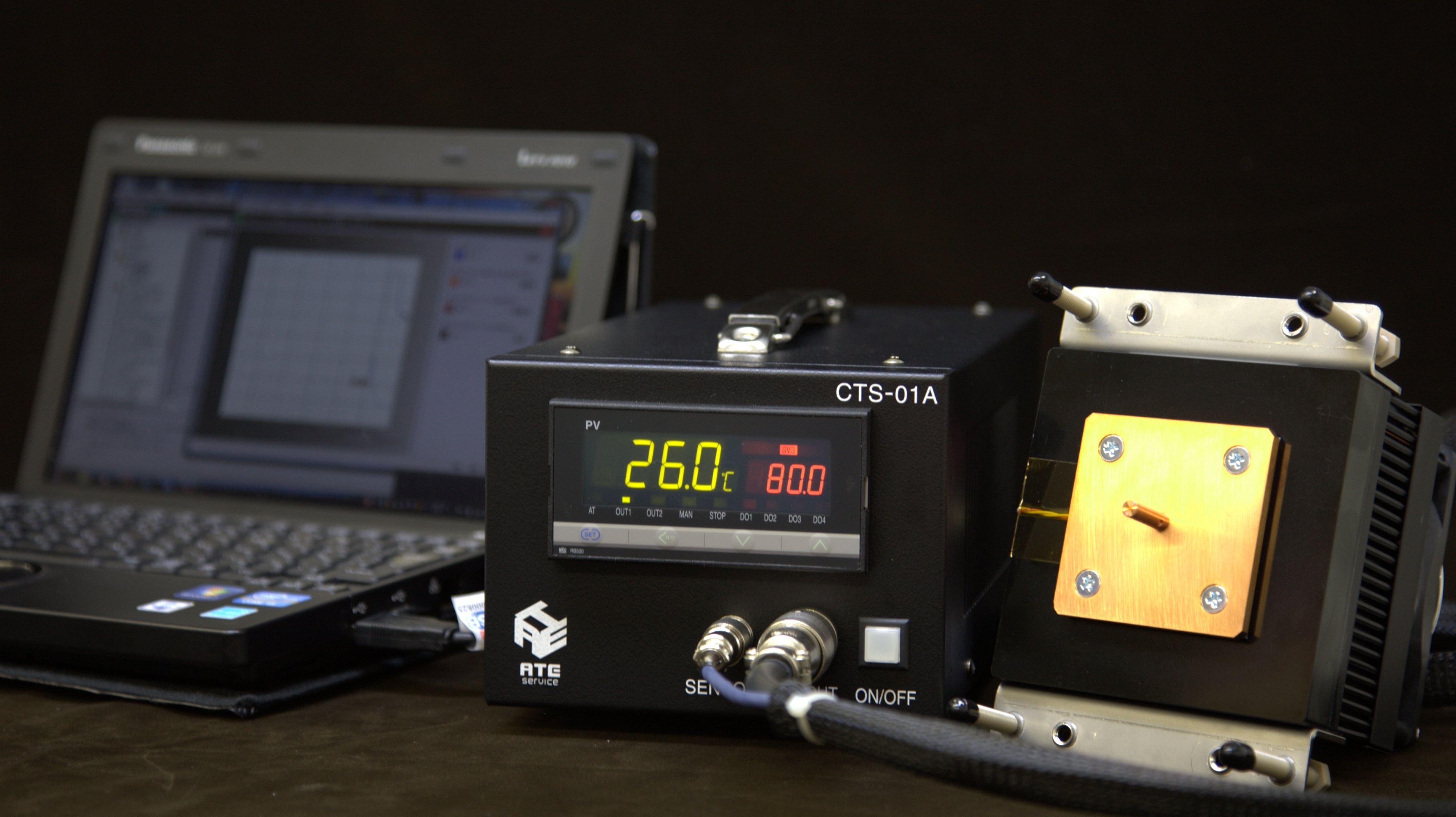 Heating / cooling plate temperature range: -30 ° C to + 125 ° C
This system is desktop type DUT heating / cooling system using skeleton type Peltier device. Both the Peltier module and the controller are compact, lightweight and compact, making it easy to perform temperature tests from -30 ° C to + 125 ° C with only a 100 V AC power supply on the desktop. It is optimum for evaluation of R & D and ES sample device, failure analysis / quality assurance.
Product Summary
Lightweight and compact desktop type DUT High temperature / low temperature test system
     Because of AC 100 V specification, workability is good, low cost and running cost reduction.
In the case of  Depending on the adoption of the skeleton type Uni thermopeltier element, compact / high power / high grade fever
Can operate 100,000 times or more in the Peltier module repetitive operation test
The temperature sensor is a PT100 Ω platinum resistance temperature detector
External temperature control by PC at RS232C port
2 system temperature display · 5 ch temperature memory function (option)
Applications
Temperature evaluation of R & D and ES devices
Ideal for device failure analysis / quality assurance applications
Frequently asked questions Q & A
Q: What is the temperature range?
A: It is -30 ° C to + 125 ° C in the standard model.
However, the high temperature side can also output up to 150 ° C depending on the usage environment.
Q: Can the attachment be customized according to your requirements?
A: Attachment will be created according to the shape of the device to be used. However, since the temperature characteristics are affected by the shape, please consult us before designing. The following pictures are examples of creating so far.
Q: Can I control temperature control from PC?
A: We are equipped with software for temperature control as standard.
For example, it can be set to(1)at100℃ 2h => (2)at-10℃ 2h => (3)at50℃ 2h => return to (1) can be used according to customer's
Q: It seems that frost will be generated at low temperature (below freezing), is there any countermeasure?
A: We offer an optional hood cover for frost protection.
Depending on the use environment, it may be necessary to take measures against frost for use under freezing temperatures. We propose measures against frost by filling the inside of the hood with nitrogen or dry air.
Q: There is no space for installing the module legs on the board. Are there countermeasures?
A: We prepare the movable module legs as an option. Since each of the four legs moves, it is possible to effectively use the installable space.